Request for Proposal Nonprofit Bookkeeping/Accounting Services
Request for Proposal Nonprofit Bookkeeping/Accounting Services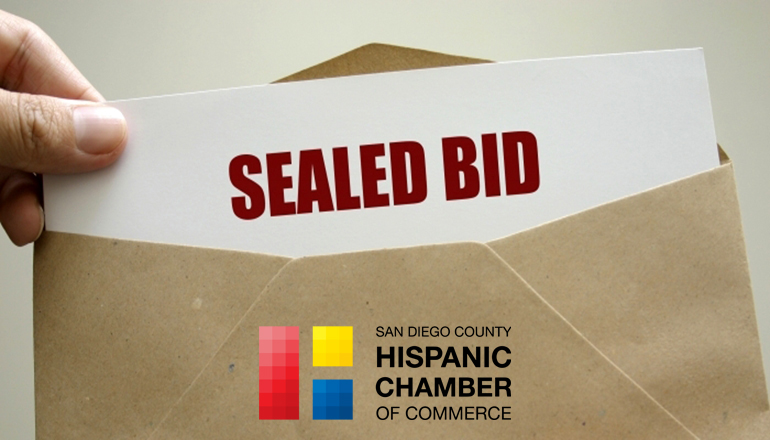 I. Summary of Request
The San Diego County Hispanic Chamber of Commerce (SDCHCC), a 501(c)6 and 501(c)3 nonprofit organization in San Diego, CA, seeks proposals for contracted bookkeeping, accounting, and financial services. All applicants must have relevant nonprofit experience,
particularly accounting for organizations receiving government funding.
II. Background of the San Diego County Hispanic Chamber of Commerce
SDCHCC's mission is to create and promote a favorable business climate for emerging businesses, advance economic development, provide fair and equitable access to the marketplace for Latino companies, and support education and culture initiatives for the greater San Diego Hispanic community. SDCHCC is San Diego County's largest business association representing the San Diego-Tijuana Hispanic Business community. The SDCHCC was founded as a not-for-profit legal entity in 1989 by a group of men and women business owners who felt a need for an organization to assist and promote the interests of the Hispanic entrepreneur in San Diego County. Over the last 20 years the SDCHCC has elevated itself to become the leading Hispanic organization in the County, advocating for the Hispanic businessperson and the Latino community. The diverse membership of over 500 active members and affiliates is an ideal mixture of small business owners, corporate representatives, and government leaders.
The Chamber has become the ultimate resource for outside organizations that wish to do business with the Hispanic business community. SDCHCC strongly emphasizes the importance of members to utilize the Chamber network and contacts. Hence the strength of San Diego County Hispanic business economy, SDCHCC's prestigious reputation, and innovative style of
business practices.
III. Scope of work to be performed and standards to be followed
Bookkeeping Services
o Accounts Receivable: receive and record revenue as dictated by IRS Guidelines
o Accounts payable: Make payments to vendors; prepare annual tax form filings
o Maintain costs by program and/or grant designation
o Follow the established Cost Allocation Plan as written in the chamber's budget and
bylaws
o Work with the Chair, Treasurer, Finance Committee and Grant Committee in
assisting with Grant Reporting
o Review staff timesheets and proper grant allocation
o Process and enter Payroll information into accounting system
o Maintain Deposit and Vendor files by Fiscal Year
o Amortize Insurance Policies
o Follow Accrual Accounting method for maintaining the books
o Monthly reconciliation of bank accounts as well as reconciliation of all balance sheet accounts
o Monthly reconciliation of payments made for invoicing
o Monitor release of restricted funds
o Identify areas for management review regarding process and practice to improve efficiency and ensure compliance
Financial Reporting
o Budget to Actual Summary and Detail
o Prepare monthly statements of Loss and Profit Sheet, Balance Sheet, or other
reports as necessary
o Present financials to the Board of Directors on monthly basis
o Assist the Board in Budget Preparation
o Prepare budgets and allocations for multiple programs and funding sources
o Prepare and submit periodic budget amendments to grantors
Audit Preparations
o Participate in financial audits and reviews conducted by funding agencies, including
document preparation and onsite support
o Prepare year end reports, schedules and other documents requested by auditor
o Provide audit process support as needed; research and resolve issues as they arise
o Provide reports and data as requested for the completion of annual tax returns
o Reporting Requirements
o Prepare periodic reports as required by Executive Team and Board of Directors (e.g.,
County, State, and private philanthropic organizations)
o Maintain fixed asset inventory and depreciation
IV. Term of Contract
Initial contract will be for 1 year with an option to extend the contract for 3 one-year contract periods.
V. Cost Proposal
Bidders are requested to submit a project price, include each service and detailed fee schedule. Any adjustments, additional expenditures, or other service outside of the scope of this proposal must be pre-approve
VI. Selection Process
Proposals will be reviewed for completeness, proposer experience, experience with previous similar work, excellent references, and reasonableness of cost proposal. Interviews may be requested with select proposers.
VII. Proposal Submission
Questions and completed proposals shall be submitted via email to Martin Arias, Treasurer, Treasurer@sdchcc.org. Complete proposals are due by 5:00 pm PST on Wednesday, March 31, 2021. Selected bidder will be notified in writing by Thursday, April 15, 2021. Work will begin on a defined date on the contract.