City of San Diego COVID-19 Emergency Rental Assistance Program
Information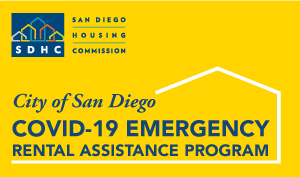 PLEASE APPLY BEFORE August 7th for assistance on your Rent.
If you need Help With Your Application please reach out to these Community-Based Organizations.
Chicano Federation https://www.chicanofederation.org/ (619) 285-5600 x 802
City Heights Community Development Corporation https://www.cityheightscdc.org/ (619) 259-0343
ElderHelp of San Diego https://www.elderhelpofsandiego.org/ (858) 380-5341
Logan Heights Community Development Corporation https://www.loganheightscdc.org/ (619) 858-0563
The San Diego LGBT Community Center https://thecentersd.org/ (619) 692.2077
Urban League of San Diego County https://www.sdul.org/ (619) 266-6256
The City of San Diego's COVID-19 Emergency Rental Assistance Program helps individuals and families with low income in the City of San Diego who experience financial hardship due to COVID-19. The program will provide one-time payments of up to $4,000 per qualifying household to help pay past-due and/or upcoming rent. The San Diego Housing Commission (SDHC) administers this program on behalf of the City of San Diego. For more information, call (619) 535-6921
Who Can Receive Help?
Households that meet the following requirements are eligible for help: • A City of San Diego address.
• Household income in January 2020, at or below 60 percent of the San Diego Area Median Income ($64,200 per year or less for a family of four).
• Eligible immigration status (U.S. citizen/U.S. National, lawful permanent resident/conditional permanent resident, a refugee/person seeking asylum or granted asylum).
• Financial hardship directly related to COVID-19.
• NOT currently receiving any rental subsidies.
• NOT currently a tenant of an SDHC-owned/managed property. • Household savings do NOT meet the household's financial need.
How to Apply Due to COVID-19 health risks, the application is only available online:
• The application will be available starting no later than July 20, 2020. Applications will be accepted through August 7, 2020.
• Apply at covidapplication.sdhc.org A list of several community organizations able to help individuals and families complete and submit the online application will be available by July 20, 2020:
• Call (619) 578-7794; or
• Visit www.sdhc.org Updated: 07.20.20 Required Information and Documents To apply, tenants need to have their landlord's name, email address, mailing address and phone number. Applicants are also required to upload and submit supporting documents as part of their online application:
• Photo identification for the applicant (legal driver's license, state ID, or US Passport)
• Most recent lease agreement
• Current utility bill • Documentation of all sources of household income in January 2020 (pay stubs, 2019 tax returns, veterans benefits, Social Security, Supplemental Security Income (SSI), Cal-Works, child support, workers compensation, state disability, unemployment benefits, self-employment income, other)
• Documentation demonstrating loss of income or increase in medical expenses due to COVID-19 (dated on or after March 1, 2020)
Payments
The program will provide one-time payments to help pay past-due and/or upcoming rent.
• Up to $4,000 per qualifying household • Up to $2,000 per qualifying household residing in rental homes where rent already is restricted to keep it affordable Payment will be made directly to the household's landlord through direct deposit on behalf of the tenant. SDHC will work with selected applicants and their landlord or property management company to make payments.
Landlord Requirements
To receive the rental assistance payment through this program, the landlord is required to complete the following steps after their tenant's application has been approved:
• Register on the program portal at covidapplication.sdhc.org
• Provide information from IRS Form W-9 to verify they own the rental home
• Authorize SDHC to make a direct deposit for the landlord to receive the funds. Landlords cannot be forced to participate in the program or to accept a payment. SDHC cannot make a payment to the landlord unless they submit the necessary forms.
How the Program Selects Applicants
All applicants who meet the eligibility requirements will have the opportunity to be selected to receive assistance. Priority will be given to:
• Families with minor children
• Households with at least one person age 62 or older Applications will be sorted and assigned numbers at random to identify the applicants who will receive help to pay their rent.